Grounded Annotation Framework is now part of GRaSP!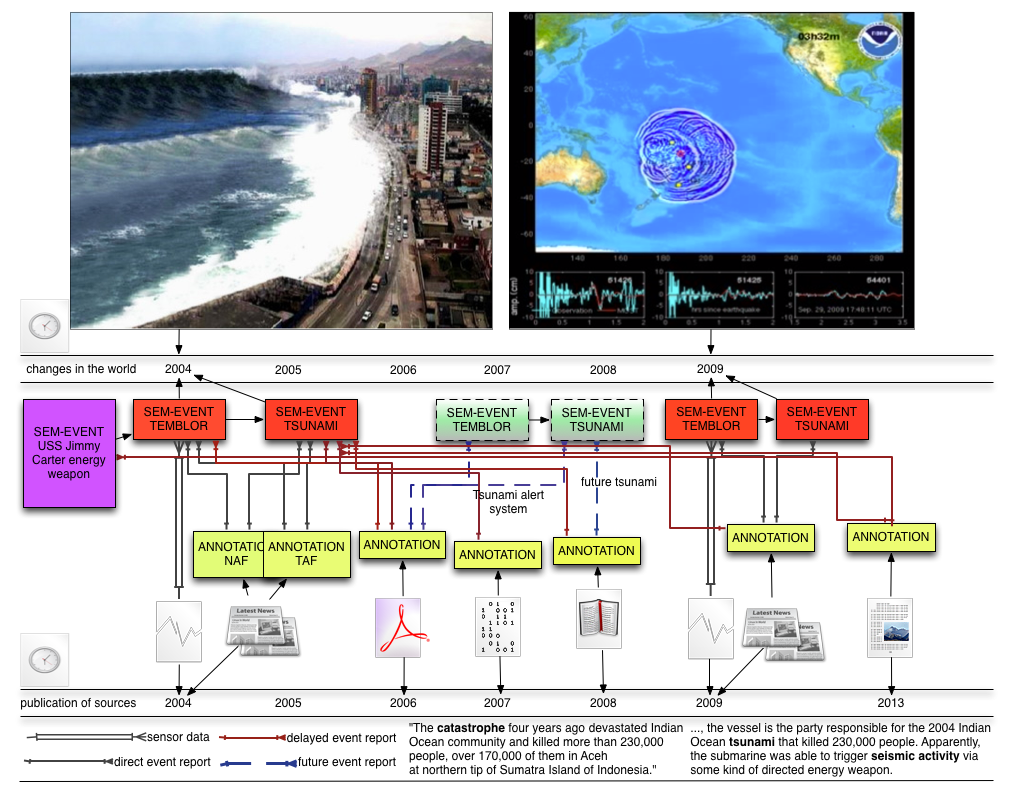 GAF in a nutshell:
The Grounded Annotation Framework (GAF) provides a formal (RDF conform) representation to link instances to instance mentions. It was originally proposed to represent information on events and how this information is provided by text. The GAF relations gaf:denotedBy and gaf:denotes can in principle be used to relate any URI modeling an instance to URIs modeling representations of this instance. It thus provides a general framework that goes beyond modeling the relation between text and formal representation of the content of text.
The main properties of GAF are the following:
Instances in GAF are represented by RDF compliant URIs that are shared across different research disciplines. This allows us to complete textual information with external sources and facilitates reasoning.
GAF was specifically designed for representing events described cross-documents in events such as NewsReader and BiographyNet.
GAF makes a clear distinction between mentions of events in text and their formal representation as instances in a semantic layer.
The distinction between instances and their mentions provides a natural way to model cross-document coreference.
The semantic layer can integrate any linguistic information and is compatible with previous event representations in NLP.
Please check out the GAF ontology
GRaSP
The Grounded Representation and Source Perspective (GRaSP) framework goes beyond GAF by adding an attribution layer to the grounded representations provided in GAF. This provides a powerful mechanism to add all kinds of information related to perspectives. We consider a perspective to consist of what a source talks about (the information a person or organization chooses to share) and how the source talks about this (the stance the source takes on this information). GRaSP provides both the means to formalize what a specific source talks about (the link between mentions and instances) and adds the means to formalize the stance taken by a source, including whether they confirm or deny something, whether they speculate, express uncertainty, sentiment, etc.
References
Standard Reference
Antske Fokkens, Marieke van Erp, Piek Vossen, Sara Tonelli, Willem Robert van Hage, Luciano Serafini, Rachele Sprugnoli and Jesper Hoeksema (2013) GAF: A Grounded Annotation Framework for Events. Proceedings of the first Workshop on EVENTS: Definition, Detection, Coreference and Representation. Atlanta, USA. [poster][.bib]
Other References
Antske Fokkens, Aitor Soroa, Zuhaitz Beloki, Niels Ockeloen, German Rigau, Willem Robert van Hage and Piek Vossen. 2014. NAF and GAF: Linking Linguistic Annotations. In: Proceedings 10th Joint ISO-ACL SIGSEM Workshop on Interoperable Semantic Annotation. Reykjavik, Iceland.
Zuhaitz Beloki, German Rigau, Aitor Soroa, Antske Fokkens, Kees Verstoep, Piek Vossen, Marco Rospocher, Francesco Corcoglioniti, Roldano Cattoni, Stefan Verhoeven and Mathijs Kattenberg. 2015. System Design, NewsReader Deliverable D2.2, version 2.
Thomas Ploeger, Maxine Kruijt, Lora Aroyo, Frank de Bakker, Iina Hellsten, Antske Fokkens, Jesper Hoeksema and Serge ter Braake. 2013. Extractivism: Extracting activist events from news articles using existing NLP tools and services. Proceedings of DeRIVE 2013.
Marieke van Erp, Antske Fokkens, Piek Vossen, Sara Tonelli, Willem Robert Van Hage, Luciano Serafini, Rachele Sprugnoli and Jesper Hoeksema. 2013. Denoting Data in the Grounded Annotation Framework. ISWC 2013 Posters and Demos. Sydney Australia, 21-25 October 2013.